P.E.D. Interview

Originally printed in Spinal Jaundice #2 – 1987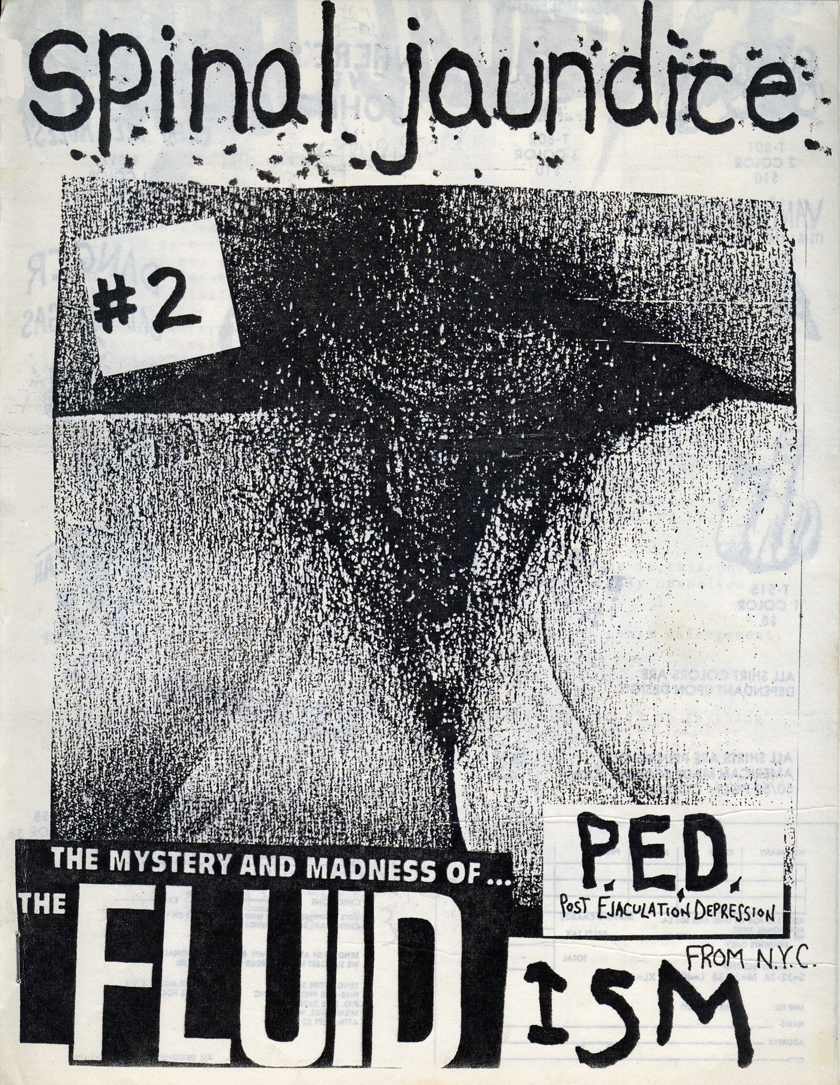 All I can say about this one is finally. Int with Post Ejaculation Depression vocalist and guitarist Sam Shiffman from Joisey.

MJ: How long have you been, Ben?
SS: We've been together about a year and a half.

MJ: Who is in P.E.D.?
SS: Me, Sam, on vocals and lead guitar, and I book shows. John plays bass, but he now goes to school in Boston. Quenton plays rhythm and he's a skinhead deadhead. Chris plays drums.

MJ: What's a skinhead deadhead?
SS: He's into The Dead but he's a skinhead.

MJ: Is it easy to get shows where you live?
SS: No it's not at all. There's one playing place called City Gardens. It's pretty big and well known and shit. But only huge bands get shows there. During the school year some minor shows happen. I did some shows also, like 7 Seconds and Dag Nasty.

MJ: What albums and shit do you have out?
SS: Our 7", "Xerox For Yugoslavia." Also an upcoming New Jersey compilation called "Mental Floss" we have a song on. It's called "Don Johnson." It's kind of like a rap song.

MJ: Any possible touring plans, guy?
SS: We were hoping to in August but I'm neurotic (laughs). No really, got no money and van and shit. We'll probably wait for a full LP.

MJ: Would you ever tour with Black Uhuru?
SS: Yes, definitely. I love Black Uhuru.

MJ: Do you like any industrial music?
SS: Yeah, I like The Swans from NY. And that German band Einsturzende Neubauten. I like a lot of everything. I like reggae too.

MJ: What type of music would you say that you played?
SS: Like silly hardcore. We try to stay lighthearted.

MJ: Where can people order your shit?
SS: Well, Important carries our shit, and Rough Trade and Systematic. Important, who like never fucks with 7"ers at all, took ours and has been most reliable.

MJ: Have you guys tried Toxic Shock?
SS: We were told not to let them distribute because they like rip off. The money's not that important but we just wouldn't want to go through that bullshit.

MJ: Yeah, Toxic Shock dicked us around too. We sent them several cassettes for distribution and they never even wrote or called back. When I contacted them they said that total underground shit "doesn't sell," yet they say they're underground and non-corporate.
SS: Yep.

MJ: Anything else?
SS: Drop me a line dudes.