Die Kreuzen Interview

Originally printed in Spinal Jaundice #5 – 1988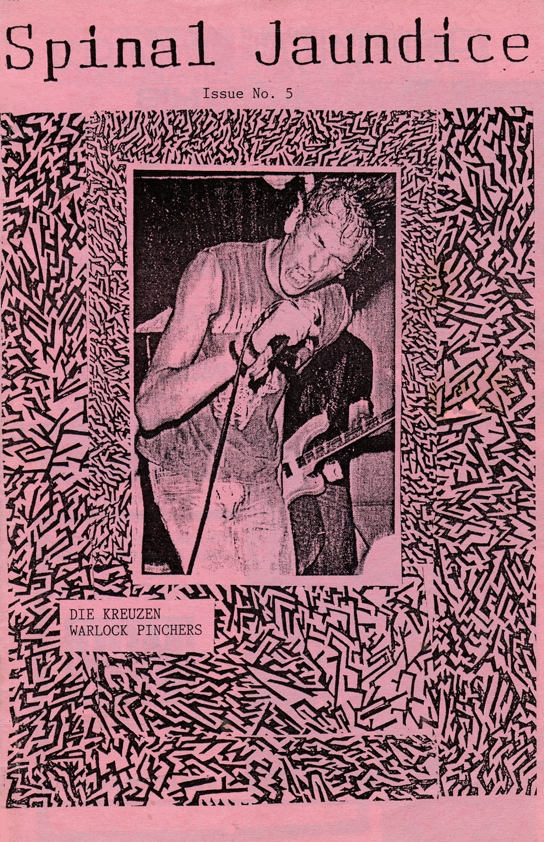 Die Kreuzen stand as one of the more powerful, mold breaking hardcore bands still around today. Lineup remains the same: Dan – vocals, Erik – drums, Keith – bass, Herman – guitar. Their newly-released album "Century Days" on Touch and Go further sets this band ahead. Interview with vocalist Dan Kubinski.

MJ: So have you been touring at all?
DK: No, we haven't toured for about a year and a half now… I don't expect us to go out on the road, at least not a full-scale tour for a while. It will be about after Christmas before we'll be out on the road. However we are going to Europe in October for a couple of weeks.

MJ: Tell us what you think of the new LP "Century Days."
DK: Well…it's Die Kreuzen. It's different than our first album and it's different than our second album but, you can tell it's us playing. I don't know…it's a natural progression.

MJ: Do you think you've changed, you know, drastically over the years?
DK: Well I think those guys have become better songwriters and we realized we don't have to play fast to make it sound really good or powerful…you know, it doesn't have to be fast, you can play all different. It can be slow, and it can be melodic too, so we're trying kinds of different things.

MJ: Yeah, it's like I know some people who listen to mostly like, Armored Saint and stuff like that but they like your music too. So, is Wisconsin a pretty good place to play at? Or easy?
DK: Um…not really. I mean if you really want to play a gig you can go out and get one but there's not a whole lot of people who are going to show up. Even in the biggest town here, Milwaukee, we have problems with people not showing up.

MJ: So it's pretty much the type of thing where if it's not a really well-known band, just no one goes?
DK: Yeah, well even when Black Flag played you know, not that many people would show up. Hardly anybody at all. When Couch Flambeau plays, no one really goes to see them…it's kind of depressing actually.

MJ: What are some other bands you all listen to?
DK: I like all kinds of music and bands…one of my favorites right now is The Weathermen from Kentucky, and White Zombie's pretty cool. All kinds.

MJ: Lame question…how about influences?
DK: Oh, all kinds of influences. You know everything you take in is an influence.

MJ: How have things been with Touch and Go so far?
DK: Everything has been great, really going well. They did a great job with the new record, they really outdid themselves. It's a beautiful package, it has a gatefold and it has like a lyric sheet with photos on the inside. The first 3000 copies have a limited edition poster which is really cool. It's a nice package to get. I hate to get a record that doesn't have anything to look at.

MJ: That's kind of depressing in itself.
DK: Yeah, it's kind of a drag…so we decided to give this record the big package.

MJ: So do you think this will be it for a while or are you planning to do yet more vinyl?
DK: Oh yeah, we're planning to do a 7" in the fall with a couple brand new songs and then hopefully, sometime around the new year we'll start recording a new album again. And have something out in the spring again.

MJ: So do you guys know the Butthole Surfers at all?
DK: Yeah, kind of, sort of. Not real well, but we know them. We've done a lot of shows with them.

MJ: How's the local response been towards Dee Kroitzen?
DK: Well the local thing here in Milwaukee is really good right now. A lot of people are showing interest. A lot of people are coming to the gigs now for some strange reason.

MJ: What are some other good unheard of or known Wisconsin bands?
DK: There's the Tar Babies from Madison who are really great. In town here there's a lot of bands that are really good. Three On Fire, Couch Flambeau, Monkey Bar and lot of others, too many to mention.